Dr. Leah K. Lovett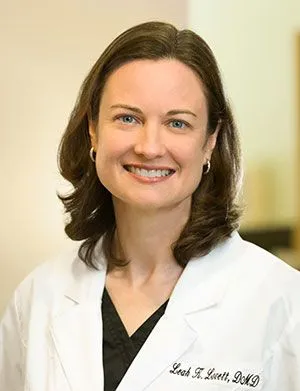 Dr. Leah K. Lovett is a graduate of the University of Florida College of Dentistry, graduating in 2006. Before attending dental school, she obtained a Bachelor of Science in Nutrition from the College of Agricultural and Life Sciences at the University of Florida in 2001. Her education and experience have allowed her to offer exceptional care to her patients over the past 11 years.
Dr. Lovett has been recognized as one of Jacksonville's Top Dentists as featured in Jacksonville Magazine for the past 3 years: 2015, 2016, and 2017, and is a member of the American Dental Association, the Florida Dental Association, the North East District Dental Association, the Academy of General Dentistry and the Guild of Dental Scholars.
Dr. Lovett started her dental career in 1996 as a Certified Dental Assistant, working part-time throughout her college years. She has always loved the field of dentistry, and is very pleased to be able to offer the highest quality dental care in a state-of-the-art facility. Dr. Lovett opened River City Dental, the first and only privately owned dental office located in the River City Marketplace, in 2011.
Dr. Lovett was born and raised in Ocala, FL and has been married to husband, Paul, a Jacksonville native, for 16 years. They have two young boys, Aden and Evan, and two beagles: Levi and Lily, and enjoy many outdoor activities. Dr. Lovett and her team would like to extend a warm welcome to those patients who are new to our practice, River City Dental!

Dr. Catherine Kimble
Dr. Cady Kimble was born in Phoenix, Arizona, and grew up in Birmingham, Alabama. She is the second child and only girl out of seven children. She graduated from Birmingham-Southern College with a Bachelor of Science degree in Biology. She earned an Air Force scholarship while at the University of Louisville School of Dentistry in Kentucky, where she earned her DMD in 2015. She went on to complete her advanced education in general dentistry residency program with the Air Force. Dr. Kimble was stationed in Shreveport, Louisiana and Warner Robins, Georgia. At Warner Robins, Dr. Kimble was Head of Infection Control. Dr. Kimble served her country with distinction, earning several awards including the Air Force Commendation Medal, Outstanding Unit Award, National Defense Service Medal, and Global War on Terrorism Service Medal before completing her service.
Dr. Kimble knows that oral health is vital to overall health and has always found great fulfillment in making simple fixes that help people live healthier lives. She is constantly amazed and gratified by how a little dentistry can make enormous improvements in self-esteem and confidence, as well as health. Dentistry is the perfect fit for her creativity and artistic eye.
Giving back to the community is very important to Dr. Kimble. She has organized and participated in National Children's Dental Health Month activities for the past four years.
Dr. Kimble lives with her golden retriever, Owen. In her free time, she enjoys exercising with Owen, spending time with her friends and family, gardening, college football, painting, and traveling.
Dr. Kimble is an active member of the American Dental Association and the Florida Dental Association.